Instal and Madvertise, through their shared technology, products and expertise, service the mobile performance market through over 10 million apps installed over the past year.
Milan, February 20th 2017 – Instal, a company created inside Nana Bianca as the Mobile Marketing platform www.instal.com specializing in applications promotion, together with Madvertise, www.madvertise.it, leading group of mobile advertising since 2010 in France, Germany and Italy, have reached a strategic agreement at a European level providing new products and high level proposals to the mobile performance market.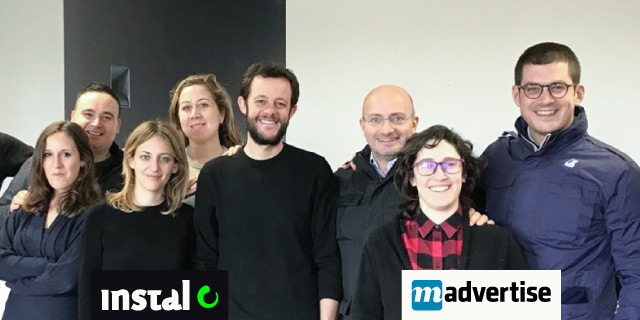 "Synergies between small and medium-sized companies become necessary in such a fragmented and dispersive market, dominated by Google and Facebook. We strongly believe in this union, made possible by the profitable collaboration through Instal and the common values regarding the approach to the clients and the market." states Tommaso Rossi, Managing Director of madvertise Italy.
Thanks to the commercial alliance and the integration of the proprietary technologies of Instal and the company Appsfire, acquired by Madvertise Group in 2015, both agencies and clients benefit from a great range of unique mobile performance advertising solutions which include: native formats, Rich Media and Video formats, pre-load on top telephone operators' decks and the chance to work in total transparency concerning results and goals through Analytics tools tracking actions following installation.
"In the mobile performance market we need to have products which are perceived from an investor's standpoint as simple and effective. One of the main goals of the partnership with Madvertise is to bring grounded expertise and advanced technologies allowing clients and partners to implement effective strategies to guarantee an economic return coming from the promotion of their App" states Filippo Satolli, Co-founder and COO at Instal. " We are going to arrange private events, webinars, white papers to inform brands about Apps' potentiality and we will make our technologies and expertise available to help them understand metrics and guarantee fitting ROI"
Both companies, specialized in CPI (Cost per Install) campaigns, join technologies and commercial strength creating dedicated teams managing the advertising markets in Italy, France, Germany, Switzerland and Austria aiming, by 2018, to open to new markets together.
Advertisers will have the advantage of having a single reference able to follow them in the investing process with a dedicated team and a high-quality, transparent, brand safe and performing product, values that today cannot be found in a single player on the market.