L'Oréal the international cosmetic giant launches an innovative beauty app Makeup Genius allowing customers to virtually try new looks and products on without the hassle or mess. Revolutionizing the way women shop, Makeup Genius gives its users expert personalized beauty advice making women's lives around the world more fun by turning their smartphone into a trip to a professional makeup studio.  L'Oréal has found a way to solve consumers pre purchase questions or fears with a mobile virtual mirror app, and sell more product world wide without cluttering its advertising by finding the magic of going mobile!
What does the beauty industry, technology, and innovation all have in common? L'Oréal  is combining all three to transform the beauty industry in ways no one else has. Makeup Genius was an instant global success when it was launched by L'Oréal. The brand has been making big changes by investing in digital advertising to help drive sales and loyalty across the brand's already wide product base.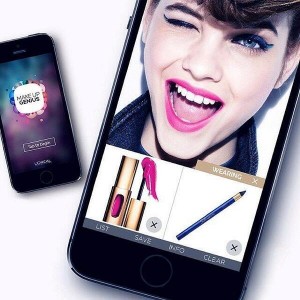 "Digital is really transformative in the way companies operate today. It has a big impact on business, it has a big impact on the way you interface with consumers, but you have to have the full support of the executive committee and of the CEO.. It's a question of investment; it's a question of talent; and digital is hot right now – it's precious, there's a lot of turnover – so you have to recruit them, retain them, make them dream about your company. That's really important." said Lubomira Rochet, L'Oréal's chief digital officer. (Telegraph)
The app has had huge success with over 11 million downloads and high ratings now available for your traffic on Instal.com! The company has seen so much success L'oreal has future plans to expand its Makeup base, and launch more apps for consumers to try the product before the purchase, proving digital can really evolutionize any company.
Review from a happy user on the iTunes Store
"Such a fun app! It allows you to try on different makeup looks for day or night, and once you find the perfect look it gives you all the product info. I also used it in-store to scan a product and test out the lip color via the app before I purchased it!" (September 22, 2015)
Currently running over 500 campaigns worldwide, Instal.com – the marketing platform for apps and games – decided to take on a new challenge with an app we really believe in for an international brand like L'Oréal using our marketing services to deliver more results to Makeup Genius. With the huge competition there is nowadays in the app market, Instal.com makes it easier for apps to be more successful thanks to its: easy and fast integration, automatic optimization tools and technology, dedicated account managers. All of this, and much more, makes it possible for anyone to access, create and manage a mobile campaign to start increasing revenues for your app, just like the brand L'Oréal with Makeup Genius!
Interested in running international campaigns like Makeup Genius?! Contact your account manager or hello@instal.com to get started today!