If you are not reaching and monetizing your customers on their mobile devices chances are someone else is. The app and gaming industry has huge potential for monetizing success you just have to understand the users that could be your next customers.
Uber, Whatsapp, AirBnB are all gaining hundreds of millions, if not billions of users on their applications that years ago no one would have even expected could exist. These three apps, and many more are experiencing faster growth than any other apps in the world.
Even an app like Facebook was not successful right in the beginning but took many slight adjustments to please their clients. Before Facebook switched to native ads their web platform strategy was failing. In just three years the ad revenue went from almost nothing to 70% of its ad revenue! It took many studies, and tests to find just the right mobile strategy by understanding their users.
Real-Money Gaming is a growing industry on mobile devices for many different kinds of apps such as skill based, luck based and many more. Whether it's a small puzzle game or a big brand sports game, developers are starting to see trends in the market of app spending.
According to the customer-retention technology company Optimove, there are three types of gamers that deposit money into their favorite apps. In this ever expanding market it is always more important to retain your users and follow insights. The first type of gamers are "bold" players who will most likely put money in the app the first day of playing. The second is "hesitant" players who will most likely deposit money in the game within the first week. The last and third type is "very hesitant" players who will wait more than a week before charging their card onto the game. Optimove states that over 59% are bold players and tend to spend more but that doesn't mean you need to focus on only one category.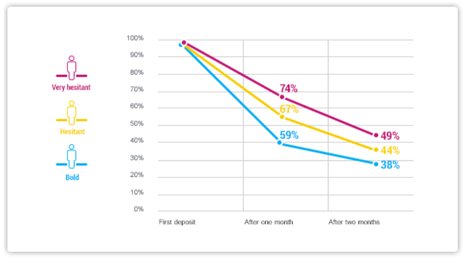 The gaming industry is expected to grow to $100 million by 2017, which means a lot of users to start engaging! "Our research found that bold players are initially worth more than the more hesitant players during their first month, but they also have a tendency to quit playing much more quickly," reads the report. "However, their survival rates increase if they're able to make it through their first month. Therefore, marketers should consider targeting these bold players with campaigns that keep them playing long enough to give them a better chance of sticking around for the long term."(Optimove, Customer Retention Software Company)
The length of time that it can take a real-money player to make their first deposit on your app is a huge indication of their future spending behaviors. By studying and understanding the difference this impact can make marketers are able to reach different people in the most effective ways!
It is constantly harder to convert more non users into customers, encourage customers to spend more, and keep current customers satisfied. All the best ideas for promotions, special discounts is the right move but different customers need different approaches. A marketing service provider like Instal can find the right campaign for the right customer to have better results. Instal.com has worked hard to create our optimization algorithm service to give your users a better experience, and your app a better business. Contact Instal today to start marketing your app to the right users hello@instal.com or for more information www.instal.com!