Bravofly is the latest brand to choose Instal.com to promote its app; the utlimate travel app, that finds you the best flight options at the best price in one click, partnered with the platform to improve and increase its installations worldwide.
Actually running over 500 campaigns worldwide, Instal.com, the advertising platform for apps and games promotion, accepted a new exciting challenge: providing quality clicks for an app that changed the way we book and travel.
As 2014 saw the surpass of mobile, people are spending today 80% of their time navigating on apps – with only the remaining 20% using browsers – and for companies it became crucial to push their brand identity through apps. Instal eases all of that: thanks to its easy and fast integration, dedicated account managers, automatic optimization tools and technology, it makes it accessible for anyone to create and manage a mobile campaign.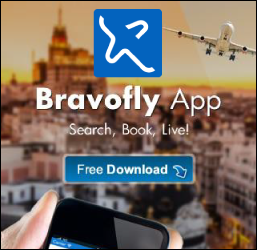 "On Instal.com we started and launched our campaign in a second. When registering on the platform, you can choose between a complete offer of services like native ads, rich media, CPI (Cost per install) ecc, and consequently target the audience you wish to reach".
Bravofly app recieved through Instal.com many quality downloads, perfectly timing with this summer holiday season and the demand for booking coming from it.
Instal successfully contributed to positioning Bravofly app as the reference app in the market for anyone who wishes to save time and money on vacations. Available for iOS and Android, Bravofly offers access to over 350 airlines in one click from your phone or tablet.
Could your app be our next big success!? Start running your campaigns on Instal for instant downloads and a boost in your app revenue. Contact us at hello@instal.com